Outdoor Phones cases
Phones cases
There are many mobile phone cases out there, but none with a real and functional outdoor carrying system.
From my observations, I developed an outdoor phone case inspired by my camera models.



---

Like the camera case, it's made with a recycled plastic shell, a neoprene layer inside and Cordura finish.

Closes with a magnet.

The insulating properties of neoprene protect the battery from cold.

The strap set and Velcro fasteners provides various ways to carry your mobile. Quick access to your phone when necessary, without it being in the way.

The price for a medium size case is between 95€ (with strap set and Velcro fasteners) and 80€ (Velcro fasteners only).
---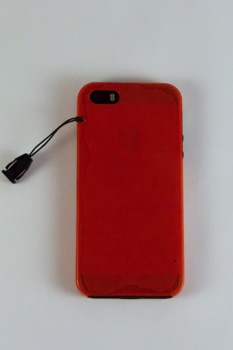 By drilling 2 littles holes in your shell, you may easily make a leash with a very thin rope with a lark's head knot.

You'll be able to link your mobile to your case and securise it.

To order, please fill the contact form with your phone references and shell dimensions.
Differents ways of carrying it
When hiking with or without a backpack, climbing or alpinism with a harness, the different ways of carrying give you quick access to your phone:
to take a picture, consult the GPS, a digital map, a climbing topo or just call your mom..