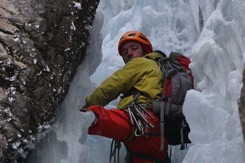 Bruno ANTOINE
Mountain guide
"As a mountain guide, I have to manage risks – done especially through good time management.

During my work I like taking pictures of my clients. That's why I choose a CHOUCAS holster. With it I can take a real professional camera, which is easily accessible and well protected by the solid and sealed case. Now it's a great friend to take climbing, ski-touring or ice-climbing.

With its small size and adjustable straps I can climb and ski with no restrictions, forgetting I am even wearing the case.

Such good accessibility makes it easy to capture the unforgettable moment. A must-have..."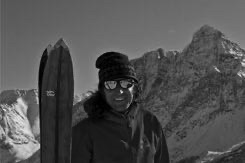 Ptor SPRICENIEKS
Pro skier - photographer
"Finally here is a system which matches my way of shooting in the mountains. I really appreciate its efficiency.

Even when travelling I am not scared to damage my camera."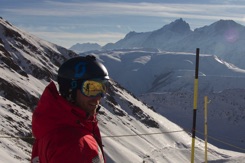 Mathieu BOUCHARLAT
Ski instructor
"For a few months I've had a handcrafted cover for my Canon 70D.
I sent my camera and lens reference, and I have been stoked to recieve an ultra-light custom shell which protects my camera very well.

Finished using recycled surfing wetsuits provides additional protection, especially against humidity.
I really like the chest mount system. It allows to keep your hands-free and have access to your camera at all times.

Because it's very compact it is perfect for extreme sports; ski, touring, climbing, mountain biking and also for travelling with.
I also like the small accessory pocket where you can put a spare battery, SD cards etc...
So, to conclude – I think that this case which is built to the millimeter, is a big plus for photography lovers who want more than an POV camera.
With this case you'll be able to easily pull out your camera without searching in your backpack."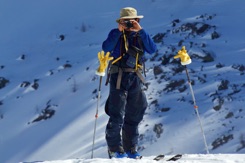 Adam DICKINSON
Skier
"The Choucas case has changed how I take photos in the mountains.

Custom made for my camera and lens - Super accessible and with a really high level of protection against impacts and moisture!

Exactly what I couldn't find on amazon."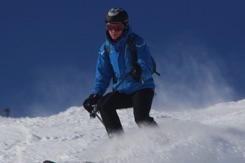 Claudio PARISI
Lawer
"Very nice design, quick, safe and great handling.
After taking a fall on skis, there was no damage to the camera or the case.

I am very satisfied with this product, I strongly recommand it.

Good value for money.
Very easy discussions with the creator: helpful, efficient and pleasant."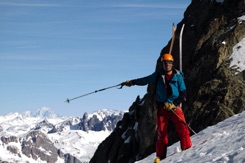 Thomas BEGUIN
Ski patroller
"I'd like also to give my opinion about this case.
I like to have quick access to my camera. That why before I had my case I was holding my camera around my neck. But depending on the activity, a camera is pretty exposed to a fall.
I am much more confident now i have my case.
With the combination of protection and compact size, I am always taking it with me when I am going into the mountains or travelling... "